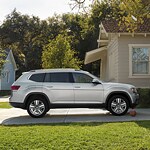 Responding to recalls may seem daunting, but it's not. Manufacturers always offer interim safety guidance and steps to take. You may also call our team here at Volkswagen of Downtown L.A. for additional guidance and support. In the meantime, take a look at how easy is to find out about recalls and respond to them.
Search for recalls related to your vehicle using the VIN. You can do this with an app called Safercar or on the website of the same name. The National Highway Traffic Safety Administration also has a vehicle recall search via VIN. When you sign up for email alerts, the NHTSA sends recall alerts by email. Your vehicle manufacturer sends recall alerts by mail when you keep your vehicle's registration current.
A manufacturer or the NHTSA issues recalls for vehicles, motor vehicle components, car seats, and tires. If you receive a notice that there is a recall on a part in a VW vehicle you own, simply make an appointment at our service center and we'll get it dealt with free of charge.